■Product name: Whisper of Apple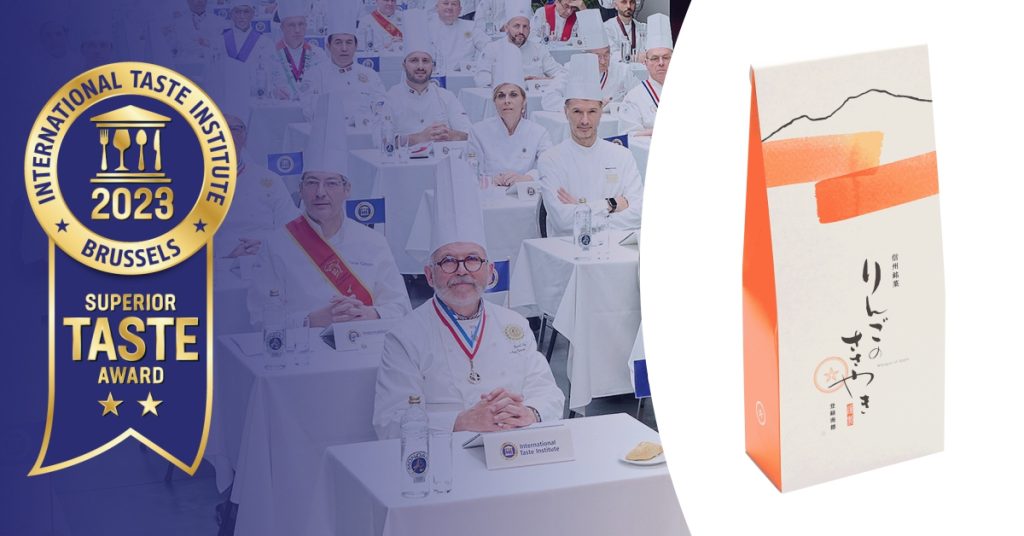 Winner of the International Taste Institute's 2023 Superior Taste Award
[Whisper of Apple] received the Superior Taste Award for 2023.
[Whisper of Apple] is a chocolate wafer cookie made of special Shinshu wheat flour kneaded with apple juice and chestnut honey baked into thin cookies and combined with melt-in-your-mouth [Fuji Apple Chocolate] and [White Chocolate] as filling of wafer. Please enjoy this "apple dessert" that reminds you of Shinshu [Nagano Prefecture].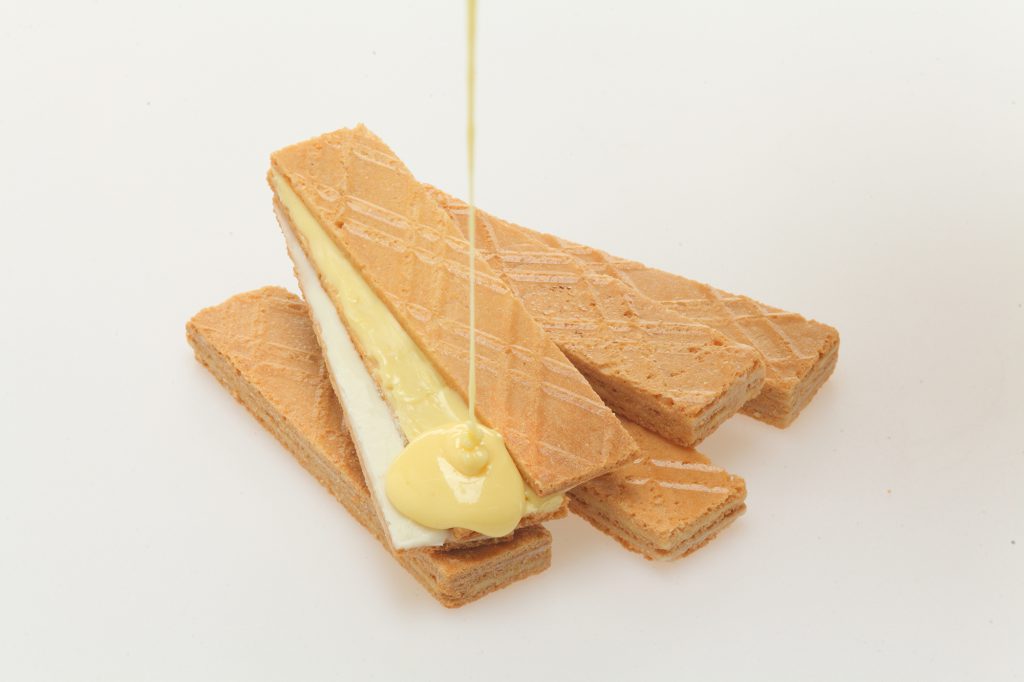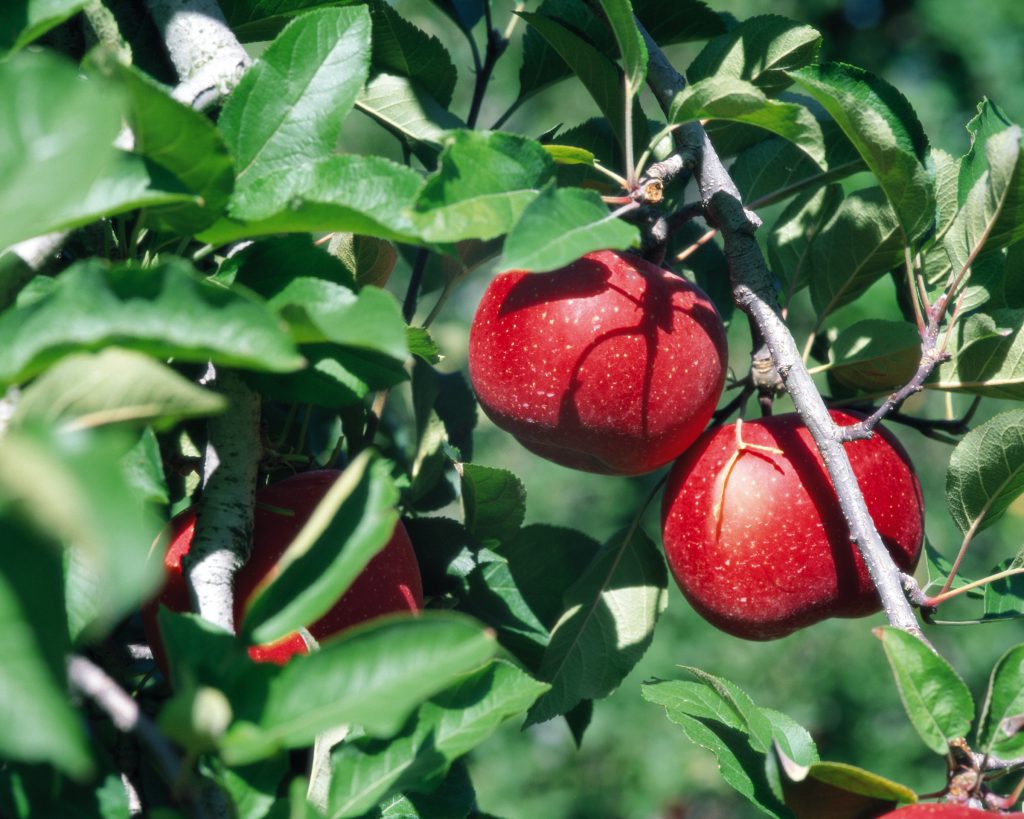 Apple juice
This product uses [Fuji apples] from Shinshu. The high elevation of Shinshu, with its temperature difference between day and night, produces sweet and tasty apples. Apples are the famous fruit of Shinshu. [Fuji apples] are refreshing, luscious, and the aroma of apples spreads in your mouth as soon as you put it in your mouth.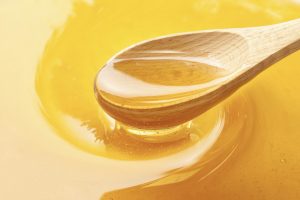 Chestnut honey
Chestnut honey from Shinshu is used in this product. It is a rare honey collected from chestnut blossoms in Obuse, Shinshu, where chestnuts are grown. It gives sweetness to the cookies and the mellow flavor when cookies melt in your mouth.
Wheat flour
This product uses Shinshu wheat flour produced in Shinshu with clean air and water. We use a unique blend of three varieties of wheat flour that we have selected through trial and error in order to create a crispy texture.
■Raw Material Label:  Chocolate (sugar, cocoa butter, whole wheat flour) (made in Japan), wheat flour (wheat (Nagano)), granulated sugar, apple juice (apple (Nagano)), chicken eggs, candy, starch, vegetable oil and fat, milk fat, chestnut honey (Nagano), apple powder (apple (Nagano)), corn syrup / processed starch Corn syrup/ Processed starch, Expanding agent, Emulsifier, Casein sodium, Flavoring, Sorbitol, Stabilizer (Soy polysaccharide, Calcium lactate), Color (Gardenia, Carotene), Acidifier, Antioxidant (V.C, Tocopherol), (Contains wheat, egg, milk ingredient, soybean and apple in some cases)
■Contents: 6 pieces / 12 pieces / 20 pieces / 40 pieces
■Storage:   Avoid direct sunlight and high temperature keep in cool dry place.
■Allergy:  Wheat, Egg, Milk, Soybeans, Apple are included as part of the ingredients. The factory where this product is manufactured also produces products containing Peanuts.

■Notice:
Once opened, please eat as soon as possible (regardless of the expiration date).
Do not give under 1 year of age as honey is used as an ingredient.
Chocolate may turn white when it cools and hardens after melting at high temperature. Although the flavor is not as good as it should be, it is safe to eat.
When taking home, avoid storing in direct sunlight, high temperatures and high humidity, such as in a car or by a window.
In summer, it is best to refrigerate it for best flavor.
Shopping store
■Northern Nagano Area
Bearny, Shinano-no-kaze Shinkansen Exit Store, Hotel Tangram Madarao Shop, Royal Hotel NAGANO, ANA Shinanomachi Kuroyon, Sakaeya, Kanbayashi Hotel Senjukaku, Shinanoya, Shinshu Fruit Land, Michi no Eki Kita Shinshu Yamanouchi, Hana no Eki Chikumagawa, Michi no Eki Nakajo
■Karuizawa, Saku, Ueda Area
Shinshu Miso Shop, Taiheiyo Club Karuizawa Course, Kashima Karuizawa Resort, Plaza Saku, Michi no Eki Saku Minami, AEON Saku-daira, Shinano-no-kaze Ueda, Oedo Onsen Monogatari Kakeyu
■Matsumoto, Azumino Area
Shinano-no-kaze Matsumoto Store, Matsumoto Souvenir Shop, Matsumoto Meihin Kan, Shinshu Local Products Kan, Shinshu Alps Market, AEON Style Matsumoto, Matsumoto Hotel Kagetsu, Utsukushigahara Kogen Museum, Yamabe Winery, Fuketsu no Sato produce direct sales shop, Echo Norikura Hotel Shirakaba-so, Japan Alps Tourism Food, Heidi's Village, AMBIENT Azumino, Misato
■Northern Alps Area
Iwatake Resort, Escal Plaza, Fujiya Shop, Hakuba Alps Hotel, Tateyama Prince Hotel, Yottetei Matsukawa
■Lake Shirakaba, Yatsugatake, Kurumayama Area
Ikenotaira Hotel, Kurumayama Sky Plaza, Kurumayama Sky Park Hotel, Nanohana Kan, Alpendorf Shirakaba, Kita Yatsugatake Ropeway, Ambient Hotel Tateshina, Tokyu HC Tateshina Annex
■Southern Nagano Area
Sosen no yado Shuhaku, Senjo Hachiman, Hotel Beniya, Oginoya Suwa, Tsutaki Inn Tenohirakan, Kiso Ichiba, Naraijuku Ichiba, Michi no Eki Okuwa, Magomekan Annex, Biande Sakura-tei
■Expressway
Obasute SA, Tobu- Yunomaru SA, Sakudaira PA, Obuse Highway Oasis, Myoko SA, Azusagawa SA, Tatsuno PA, Suwako SA, Komagatake SA, Achi PA, Enakyo SA, Kamisato SA
■Others
Zenkoji Shunsui (Zenkoji Nakamise), Heart Memory Karuizawa Prince Store (Karuizawa Prince Shopping Plaza), Heart Memory Arai Store (Michi no Eki Arai)
〔下面是中文〕
■商品名: 苹果私语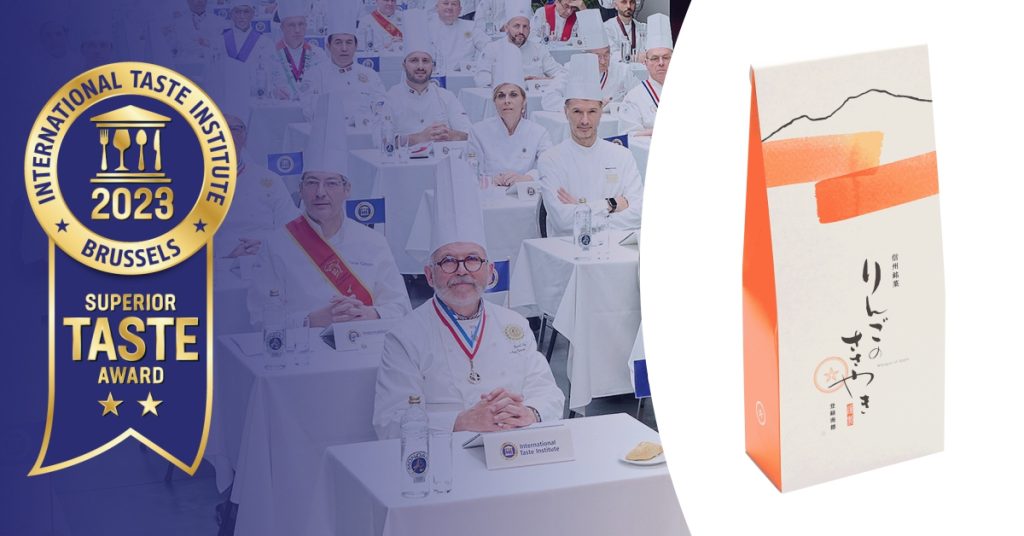 荣获国际味觉研究所2023年优秀奖顶级美味奖
〔苹果私语〕获得了2023年的顶级美味奖。
■商品介绍:  【苹果私语】是特制信州面粉与苹果汁和栗子蜜混合烤制的薄饼,与入口即化的【富士苹果巧克力】和【白巧克力】为夹心,组合成的巧克力威化饼干。请享用让人想起信州(长野县)的 "苹果点心 "吧。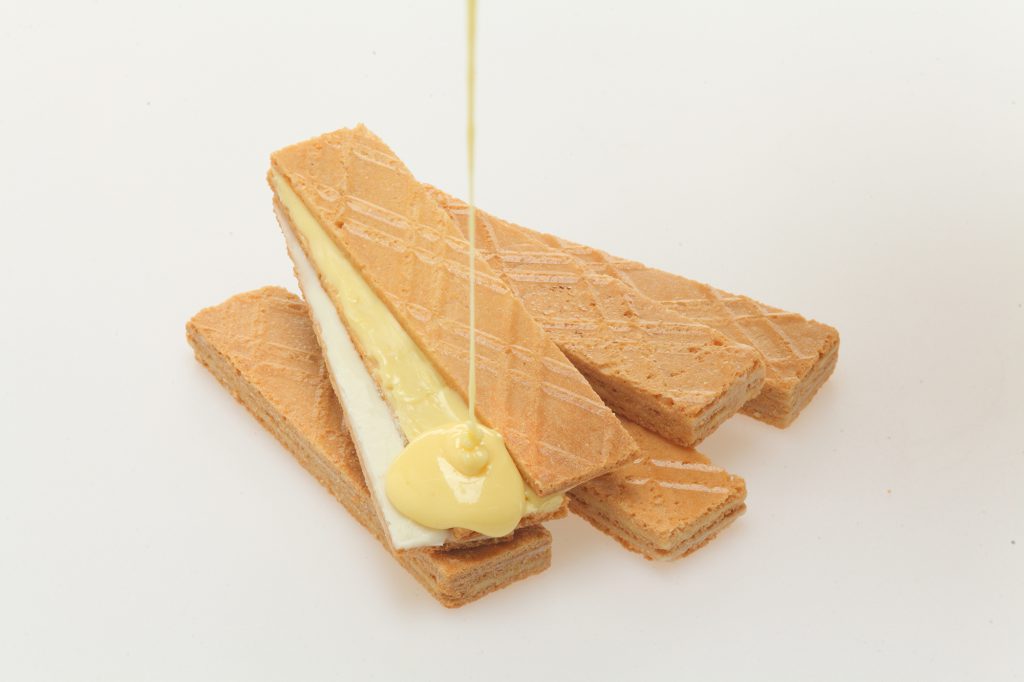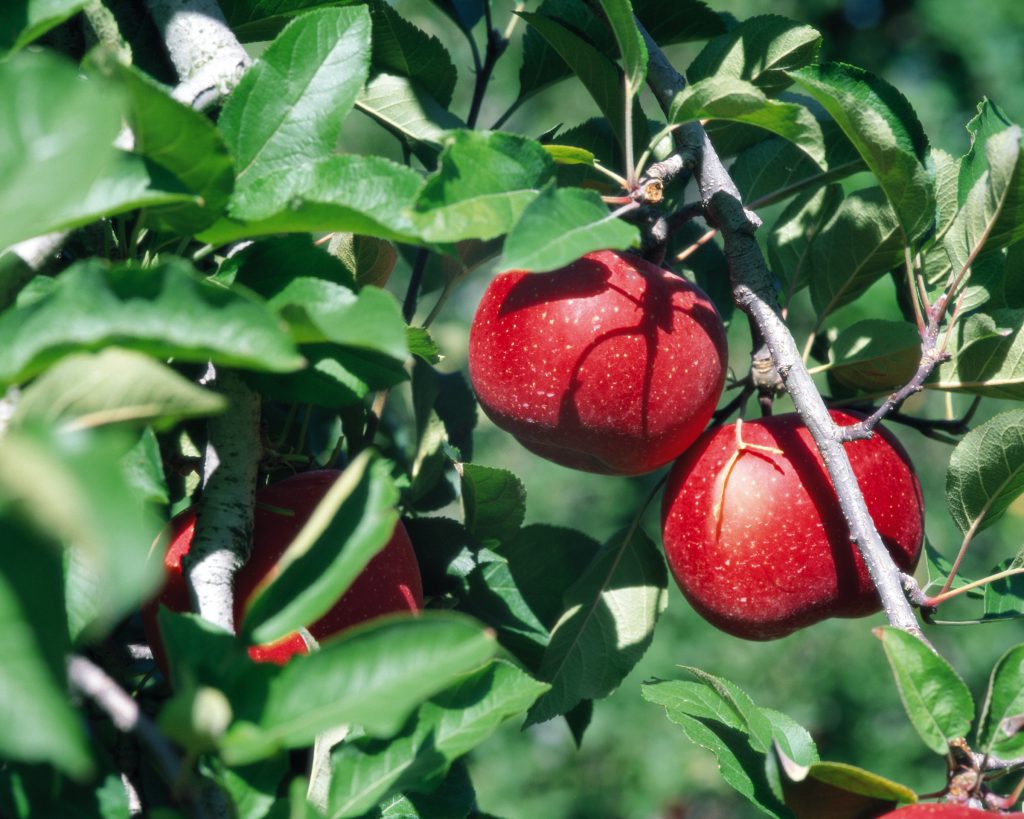 苹果汁
本产品使用了信州产【富士苹果】。 信州海拔高,昼夜温差大,因此能产出甜美可口的苹果。 苹果是信州的名果,爽口,生津,一入口便满口飘香。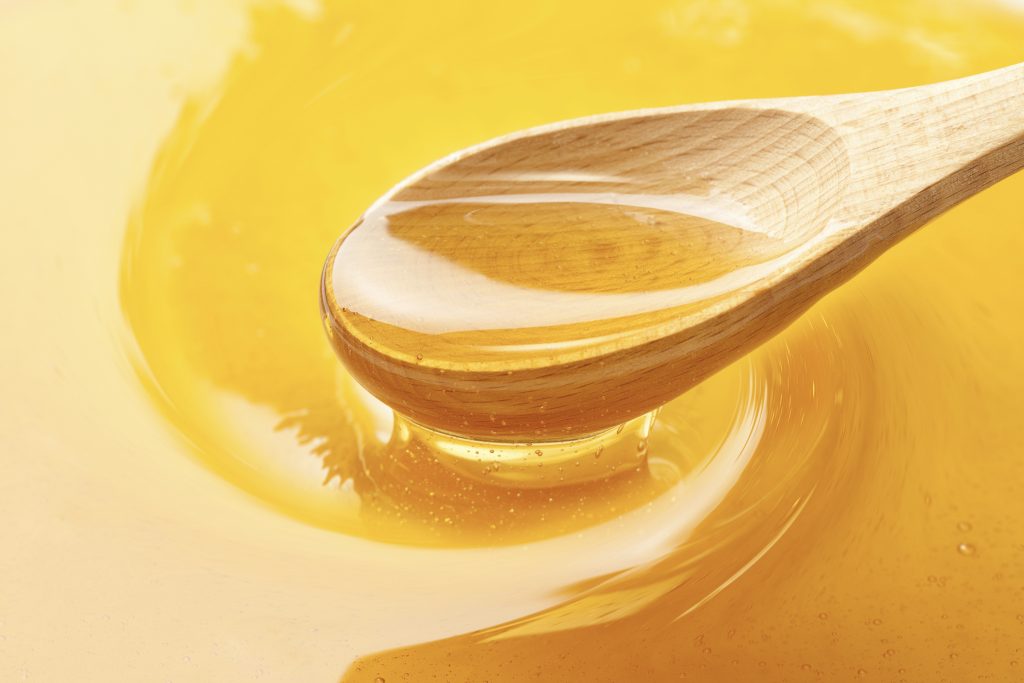 栗子蜜
本产品使用了信州产【栗子蜜】,是从栗子的生长地 "信州小布施" 的栗子花中采集的稀有蜂蜜,是饼干甜味的来源,令饼干在入口即化的同时拥有醇厚的味道。
小麦粉
本产品使用了是在干净的空气和水中生产出的信州小麦粉。为了酥脆的口感,我们使用了通过了层层选拔的三个品种的面粉混合制成了独特的面粉。
■配料:  巧克力(糖,可可脂,全麦面粉)(日本制造),小麦粉(小麦(长野)),砂糖,苹果汁(苹果(长野)),鸡蛋,糖果,淀粉,植物油和脂肪,牛奶脂肪,栗子蜂蜜(长野),苹果粉(苹果(长野)),玉米糖浆/加工淀粉。 玉米糖浆/加工淀粉/膨化剂,乳化剂,酪蛋白钠,香料,山梨醇,稳定剂(大豆多糖,乳酸钙),色素(栀子花,胡萝卜素),酸化剂,抗氧化剂(V.C,生育酚),(含有小麦,鸡蛋,牛奶成分,大豆,苹果)。
■内容量: 6个 / 12个 / 20个 / 40个
■保存方法: 避免阳光直射,高温潮湿环境。
■过敏成分: 配料中含有小麦,鸡蛋,乳制品,大豆,苹果。生产该产品的工厂有含花生的生产线。

■注意:
开封后,无论其有效期,请尽快食用
请不要给1岁以下的婴儿食用,产品中使用了蜂蜜作为配料。
巧克力在高温融化后冷却变硬后可能会泛白,会导致风味欠佳,但仍可以食用。
带回家时,请避免存放在车里或窗边等阳光直射、高温和高湿度环境。
夏季冷藏风味更佳。
※This photo is for illustrative purposes.