■Product name: Tonosama Leek Cracker
■Product Introduction: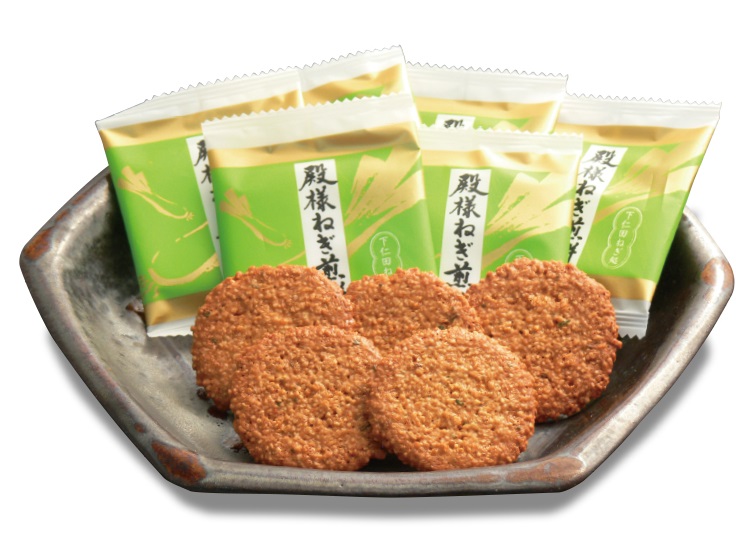 This delicious rice cracker is made with Shimonita leeks, a specialty of Gunma Prefecture.
Please enjoy the deep flavor of the thin, crispy texture of the rice cracker with a tangy " leek " taste.

〔The origin of the name "Tonosama Leek"〕
Shimonita, in Gunma Prefecture, is a production area of leeks. They have been cultivated and prized since the Edo period (1603-1868), when the Lords of Shimonita were present in the area.
Shimonita's Tonosama Leek has a strong sweetness after being heated, and has a very soft and smooth texture, which is used in many dishes.
■Raw Material Label:  Reduced starch syrup (manufactured in Japan), starch-processed food (starch, wheat flour, other), processed food of rice, sugar, liquid egg white (containing egg), green onion oil (rapeseed oil, green onion, onion, ginger), wheat flour, shortening, chicken extract seasoning (containing soybeans), dried green onions (55% Shimonita green onion), powdered miso, vegetable flavor Seasoning (including dairy ingredients, pork, gelatin), red pepper, salt/expanding agent, polysaccharide thickener, seasoning (amino acids, etc.), coloring (turmeric, caramel), processed starch, flavoring, acidifier, spice extract
■Contents: 16pieces/27pieces
■Storage:  Store away from direct sunlight, high temperature and high humidity.
■Allergy:  Wheat, Egg, Milk, Chicken, Pork, Soybeans, Gelatin are included as part of the ingredients. The factory where this product is manufactured also produces products containing Buckwheat, Shrimp, Carb.

■Notice:
This product is made from Japan-grown rice.
Once opened, please eat as soon as possible.
Please handle with care as this product is extremely fragile.
〔下面是中文〕
■商品名: 殿様葱薄饼
■商品介绍: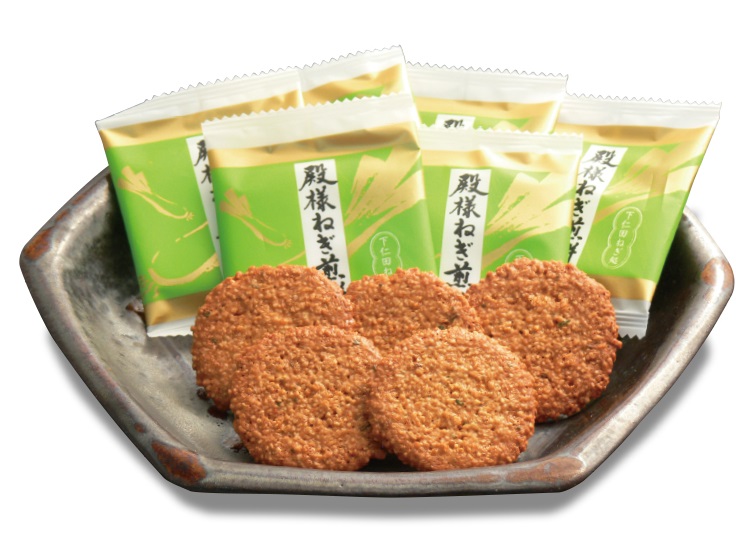 这些美味的薄饼由群马县特产的下仁田大葱制成。
请享受薄饼轻脆口感和富有层次的味道,以及浓郁的"春葱"味道。
〔【殿様葱】这个名字的由来〕
群马县的下仁田是一个种植大葱的地区。 自有领主的(殿様)江户时代(1603-1868年)以来,它们一直被种植、珍视。烹饪时,下仁田的【殿様葱】会变得更甜,柔软而光滑,可用于许多菜肴。
■配料:  还原糖浆(日本制造)、淀粉加工食品(淀粉、小麦粉、其他)大米加工食品、糖、液体蛋白(含鸡蛋)、葱油(菜籽油、葱、洋葱、姜)、小麦粉、起酥油、鸡精调味料(含大豆)、干葱(55%来自下田的葱)、味噌粉、植物香料。 调味料(含牛奶成分、猪肉和明胶)、辣椒、盐/膨胀剂、多糖增稠剂、调味料(氨基酸等)、色素(姜黄、焦糖)、加工淀粉、调味料、酸味剂、香料提取物。
■内容量: 16个/27个
■保存方法:  避免阳光直射,高温,潮湿环境。
■过敏成分:  配料中含有小麦,鸡蛋,乳制品,鸡肉,猪肉,大豆 。生产该产品的工厂有含荞麦, 虾,螃蟹的生产线。

■注意:
本产品由日本产大米制成。
开封后请尽快食用。
本产品十分易碎,请轻拿轻放。