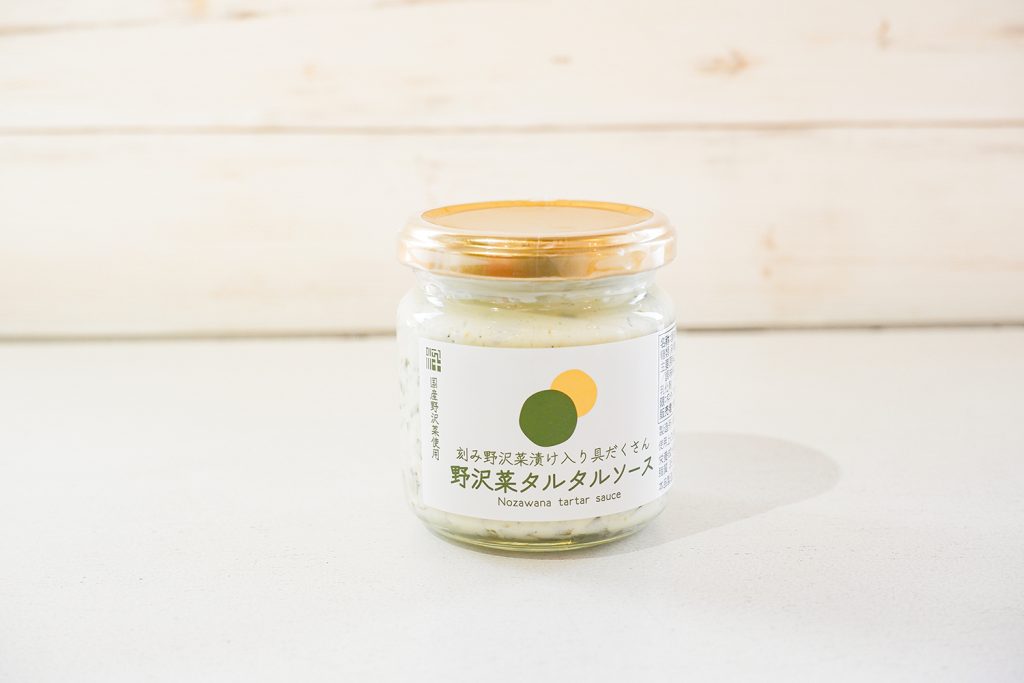 ■Product name : syunsui-Nozawana tartar sauce
■Product Introduction : "syunsui-Nozawana tartar sauce" is original tartar sauce with many ingredients using chopped pickled nozawana. The tartar sauce is made with chopped pickled nozawana made from Japanese nozawana, onions, cucumbers, celery, carrots, etc., mixed with sour mayonnaise to create a filling tartar sauce. It is a versatile seasoning that can be used with vegetable sticks and salads, as a sauce for fried dishes, etc.
[Nozawana]
Nozawana is a type of Japanese turnip greens. It is generally eaten pickled. Nozawana pickles are an everyday specialty in Shinshu ,Nagano.
■Raw Material Label : Mayonnaise (made in Japan), Nozawana (produced in Japan), sugar (sugar, glucose-fructose liquid sugar), onion, processed egg products (liquid egg, vegetable oil and fat, milk-based foods, other), vinegar, syrup, lemon juice, salt, starch/seasoning (amino acid), processed starch, glycine, sodium acetate, polysaccharide thickener, emulsifier
■Contents :  160g
■Storage :  Store at room temperature out of direct sunlight.
■Allergy : Eggs, Soybeans, Apples, Milk are included as part of the ingredients. The factory where this product is manufactured also produces products containing Shrimp, Wheat and Peanuts.

■Notice :
After opening, store at 10℃ or below and consume as soon as possible.
〔下面是中文〕
■商品名 : 旬粋 野泽菜塔塔酱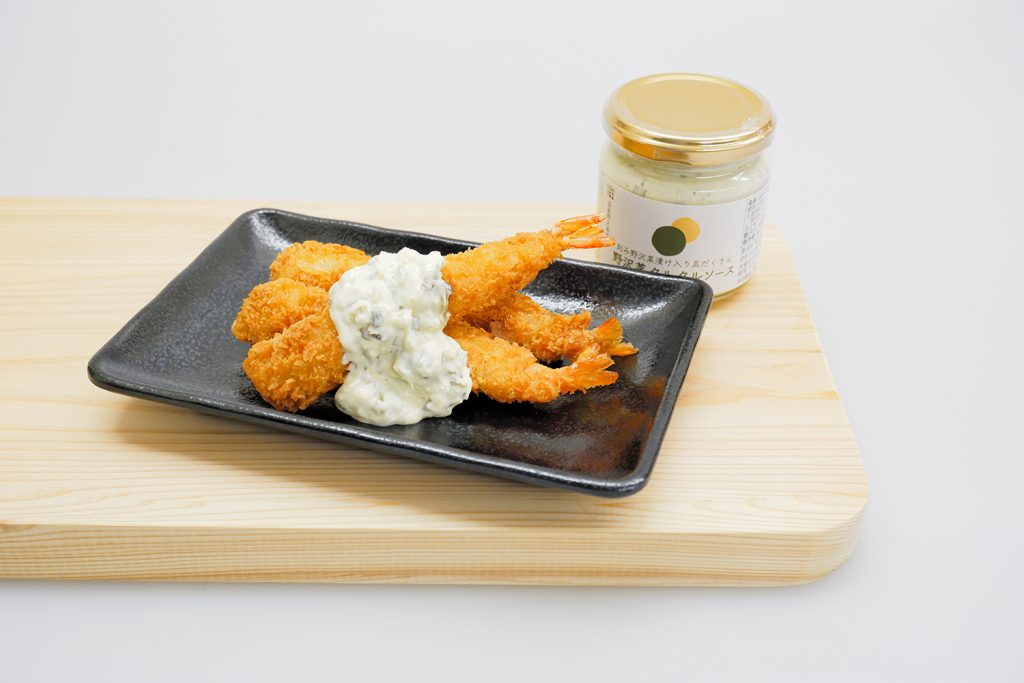 ■商品介绍 : 旬粋野泽菜塔塔酱是一种用切碎的腌制野泽菜作各种配料的独创塔塔酱。 切碎的腌渍日本野泽菜野、洋葱、黄瓜、芹菜和胡萝卜制成,与酸味蛋黄酱混合,制成配料丰富的塔塔酱。 它是万峰调味品,既搭配蔬菜条或沙拉,也可以作为油炸食品的酱汁使用。
■配料 : 蛋黄酱(日本制造)、糯米糍(日本制造)、糖(糖、葡萄糖果糖液体糖)、洋葱、加工蛋制品(液体蛋、植物油和脂肪、奶类食品、其他)、醋、糖浆、柠檬汁、盐、淀粉/调味料(氨基酸)、加工淀粉、甘氨酸、醋酸钠、多糖增稠剂、乳化剂
■内容量 : 160g
■保存方法: 室温保存,避免阳光直射。
■过敏成分: 配料中含有苹果,鸡蛋, 牛奶,大豆。 生产该产品的工厂有含虾,小麦,花生的生产线。

■注意 :