■Product name:  SHINSHU BLACK TEA COOKIE & CREAM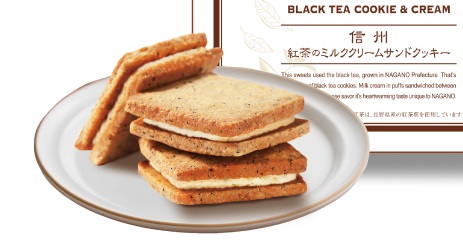 ■Product Introduction: 「SHINSHU BLACK TEA COOKIE & CREAM」is sweets used the black tea, grown in NAGANO.
That's rich aroma of black tea cookies. Milk cream in puffs sandwiched between black tea cookies.
Please savor it's heartwarming taste unique to NAGANO.
「SHINSHU BLACK TEA COOKIE & CREAM」are sweets using black tea produced in Shinshu. These cookies have a rich aroma of black tea. Puffs of milk cream are sandwiched between black tea cookies. Please enjoy the warm and comforting taste only Nagano can offer.
■Raw Material Label:  Milk-flavored filling (shortening, sugar, maltose, whole milk powder, salt) (made in Japan), margarine, wheat flour, liquid whole egg, sugar, almonds, starch, processed leavened rice, processed starch food, black tea sauce, powdered black tea (from Nagano), dried egg white, salt / processed starch, color (caramel, safflower Yellow, Carotene, Turmeric), Expanding agent, Flavoring, Emulsifier (from soybeans)
■Contents:  3pieces / 5pieces / 8pieces
■Storage: Store away from direct sunlight, high temperature and high humidity.
■Allergy:  Wheat, Egg, Milk, Soybeans, Almonds are included as part of the ingredients.
The factory where this product is manufactured also produces products containing Buckwheat, Shrimp, Carb.

■Notice:
Once opened, please eat as soon as possible.
If left at high temperatures, the cream may soften and lose some of its flavor and texture, but it is still safe to eat.
Shopping store
■Northern Nagano Area
Bearny, Hotel Tangram Madarao Shop, Sakaeya, Hotel Villages, Shinshu Fruit Land, Michi no Eki Kita Shinshu Yamanouchi, Iiyama Buna no Eki, Michi no Eki Furusato Koryukan
■Karuizawa, Saku, Ueda Area
VIALA, Shinshu Miso Shop, Onishidashien, Hotel Karuizawa 1130, Taiheiyo Club Karuizawa Course, Kashima Karuizawa Resort, Michi no Eki Saku Minami, AEON Saku-daira, Oedo Onsen Monogatari Kakeyu
■Matsumoto, Azumino Area
Matsumoto Souvenir Shop, Matsumoto Meihin Kan, Shinshu Local Products Kan, Shinshu Alps Market, AEON Minami Matsumoto, AEON Style Matsumoto, Matsumoto Souvenirs MIDORI, Utsukushigahara Onsen Shoho, Utsukushigahara Kogen Museum, Yamabe Winery, Fuketsu no Sato produce direct sales shop, Echo Norikura Hotel Shirakaba-so, Gosenjaku Hotel Kamikochi , AMBIENT Azumino, Misato, 5HORN iCity 21
■Northern Alps Area
Happo One (Hakuba Tourism Development),Iwatake Resort, Escal Plaza, Fujiya Shop, Hakuba Alps Hotel, Tateyama Prince Hotel, Kurobe Kanko Hotel, Yottetei Matsukawa
■Lake Shirakaba, Yatsugatake, Kurumayama Area
Ikenotaira Hotel, Kurumayama Sky Plaza, Kurumayama Sky Park Hotel, Plaza 21, Nanohana Kan, Shirakaba Kogen Hotel, Kita Yatsugatake Ropeway, Ambient Hotel Tateshina, Haiji no Sato Bekkan, RH Yatsugatake SP, Risonale Kobuchisawa, AMBIENT Yatsugatake Cottage, Sun Meadows, Michi no Eki Kobuchisawa
■Southern Nagano Area
Suwa Glass no Sato, Hotel Beniya, Sozumi no Yado Shuhaku, Senjo Hachiman, Monzen Hiroba Shokusai Kan, Oginoya Suwa, Tsutaki Inn Tenohirakan, Fujimi Panorama Resort, Mon Tateshina, JR East Shiojiri Station, Michi no Eki Okuwa, Magokan Honkan, Shirabidaira Shop, Biande Sakura tei, Michi no Eki Soba no Shiro, Michi no Eki Minami Shinshu Urugi
■Expressway
Obasute SA, Tobu-Yunomaru SA, Sakudaira PA, Yokokawa SA, Amara PA, Kamisato SA, Pasar Miyoshi, Obuse PA, Myoko SA, Azusagawa SA, Suwako SA, Tatsuno PA, Ogurogawa PA, Enakyo SA
■Others
Zenkoji Shunsui (Zenkoji Nakamise), Heart Memory Karuizawa Prince Store (Karuizawa Prince Shopping Plaza) , Heart Memory Arai Store (Michi no Eki Arai)
〔下面是中文〕
■商品名:  信州红茶饼干&奶油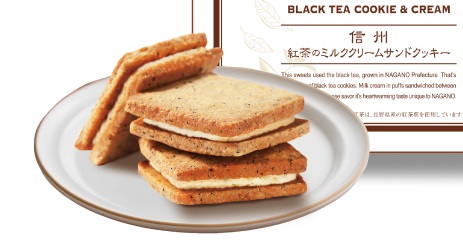 ■商品介绍:  信州红茶饼干&奶油 是一种用信州红茶制作的点心。 这些饼干具有浓郁的红茶香味。在红茶饼干之间有奶油泡芙夹心。请享用长野特有的温暖舒适的味道。
■配料:  牛奶味的馅料(酥油,糖,麦芽糖,全脂奶粉,盐)(日本制造),人造黄油,小麦粉,液体全蛋,糖,杏仁,淀粉,加工的发面米,加工的淀粉食品,红茶酱,红茶粉(茶叶(长野县产)),干蛋白,盐/加工淀粉,颜色(焦糖,红花。) 黄,胡萝卜素,姜黄),膨胀剂,调味剂,乳化剂(来自大豆)
■内容量: 3个 / 5个 / 8个
■保存方法:  避免阳光直射,高温,潮湿环境。
■过敏成分:  配料中含有小麦,鸡蛋,乳制品,大豆,杏仁。生产该产品的工厂有含荞麦, 虾,螃蟹的生产线。

■注意: 
开封后请尽快食用。
如果放在高温环境,奶油可能会软化,有损味道和口感,但不影响安全。
※This photo is for illustrative purposes.