■Product name:  Shichimi Tokarashi Ebisenbei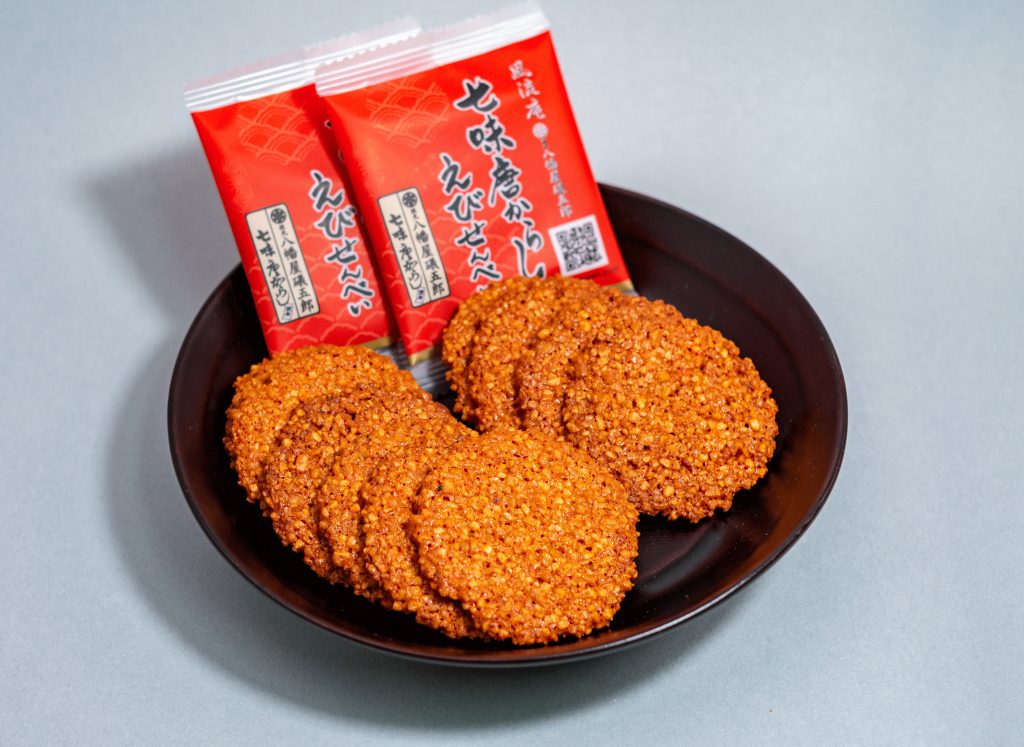 ■Product Introduction:  [Shichimi Togarashi] from [YAWATAYA ISOGORO], one of Japan's famous [three major Shichimi Togarashi], is kneaded into a rice cracker dough with a rich flavor of shrimps and baked to a crispy texture. The rich shrimp flavor and spiciness of this rice cracker will spread in your mouth. YAWATAYA ISOGORO's [Shichimi Togarashi] consists of seven ingredients: chili pepper for spiciness, sansho (Japanese pepper) for aroma and pungency, ginger, hemp seeds, sesame seeds, dried citrus peel, and shiso (a type of herb) for flavor and aroma. It is characterized by a unique taste with a harmony of spiciness and aroma.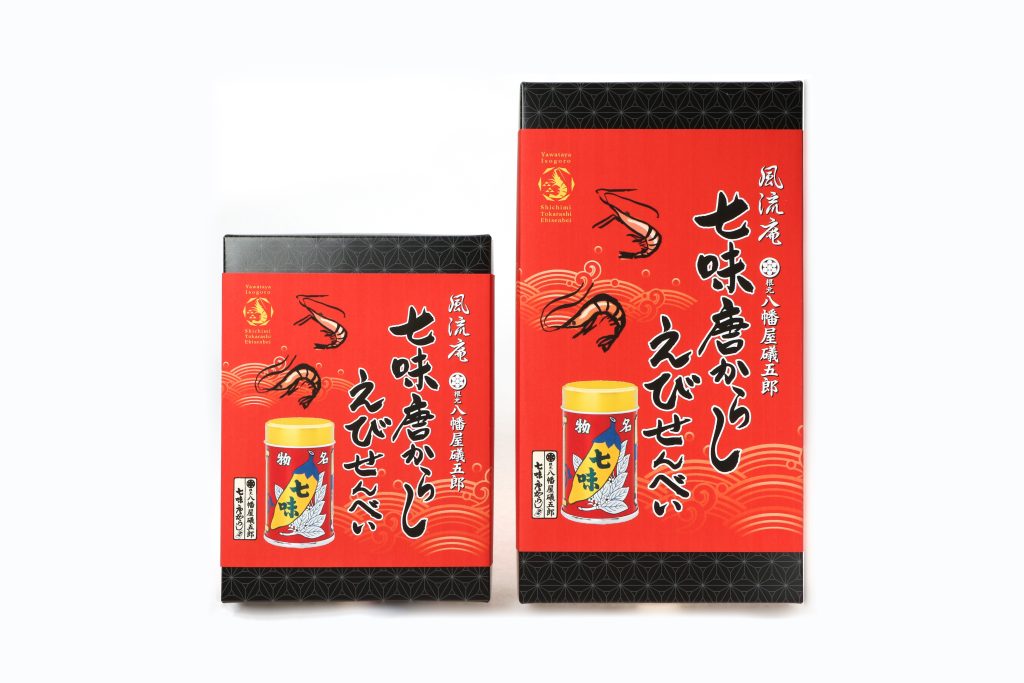 ■Raw Material Label:  Reduction starch syrup (made in Japan), starch-processed food (starch, wheat flour, others), processed leaped rice, shortening, cashew nuts, liquid egg white (contains egg), sugar, wheat flour, dried shrimp, salt, [Shichimi Togarashi] (contains sesame) / seasoning (amino acid, etc.: from soybean), color (carotinoid, turmeric), Expanding agent, polysaccharide thickener
■Contents:  16 pieces /27 pieces
■Storage::  Store away from direct sunlight, high temperature and high humidity.
■Allergy:  Wheat, Egg, Shrimp, Soybeans, Sesame, Cashew nuts are included as part of the ingredients. The factory where this product is manufactured also produces products containing Buckwheat, Milk, Carb.

■Notice:
Once opened, please eat as soon as possible.
Please handle with care as this product is extremely fragile.
This product is made from Japan-grown rice.
Shopping store
■Northern Nagano Area
Bearny, JR East Cross Station, Shinano-no-kaze Shinkansen Exit Store, Maruhachi Takiya, Takiya Honten, Takahashi Honten, Takadaya Meisanten, Tsukemono Shise Takahashi, Shinanoya, Hana no Eki Chikumagawa, Shinshu Fruit Land, AEON Nakano, Michi no Eki Furusato Koryukan, FamilyMart Ogawa
■Karuizawa, Saku, Ueda Area
VIALA, Karuizawa North Exit Store, Delicia Karuizawa, FamilyMart Karuizawa Prince Shopping Plaza, Karuizawadoh, Karuizawa Kodawari Station, Hotel Karuizawa 1130, Plaza Saku, HotPark Asashina, Michi no Eki Saku Minami, AEON Saku-daira, AEON Ueda, Zukudase Farm, ARIO Ueda, Oedo Onsen Monogatari Kakeyu
■Matsumoto, Azumino Area
Mon, Shinano-no-kaze Matsumoto Store, Matsumoto Souvenir Shop, Matsumoto Meihin Kan, Shinshu Alps Market, AEON Minami Matsumoto, AEON Style Matsumoto, AEON Toyoshina, Utsukushigahara Onsen Shoho, Utsukushigahara Kogen Museum, Hotel Shirakaba-so, Japan Alps Tourism Food, Heidi's Village annex, AMBIENT Azumino
■Northern Alps Area
Happo One (Hakuba Tourism Development), Escal Plaza, Fujiya Shop, Kurobe Dam (Kuroyon Kanko), Michi no Eki Otari, Yottetei Matsukawa
■Lake Shirakaba, Yatsugatake, Kurumayama Area
Ikenotaira Hotel, Kurumayama Sky Plaza, Plaza 21, Nanohana Kan, Kita Yatsugatake Ropeway, Ambient Hotel
■Southern Nagano Area
Hotel Beniya, Senjo Hachiman, Tsutaki Inn Tenohirakan, Biande Sakura tei, Michi no Eki Soba no Shiro, Michi no Eki Okuwa, Shinano-no-kaze Shiojiri, Magomekan Anne, Iida Apple Road
■Kusatsu, Manza Area
Hotel Sakurai, Kusatsu Michi-no-Eki, Hotel Ichii, Nissinkan, Manza Hotel Juraku, Manza Prince Hotel
■Expressway
Obasute SA, Tobu-Yunomaru SA, Sakudaira PA, Yokokawa SA, Akagi SA, Amara PA,
Azusagawa SA, Tatsuno PA, Komagatake PA,
Matsushiro SA, Obuse Highway Oasis, Obuse PA, Myoko SA,
■Others
Zenkoji Shunsui (Zenkoji Nakamise), Heart Memory Karuizawa Prince Store (Karuizawa Prince Shopping Plaza), Heart Memory Arai Store (Michi no Eki Arai)
〔下面是中文〕
■商品名:  七味唐辛子虾仙贝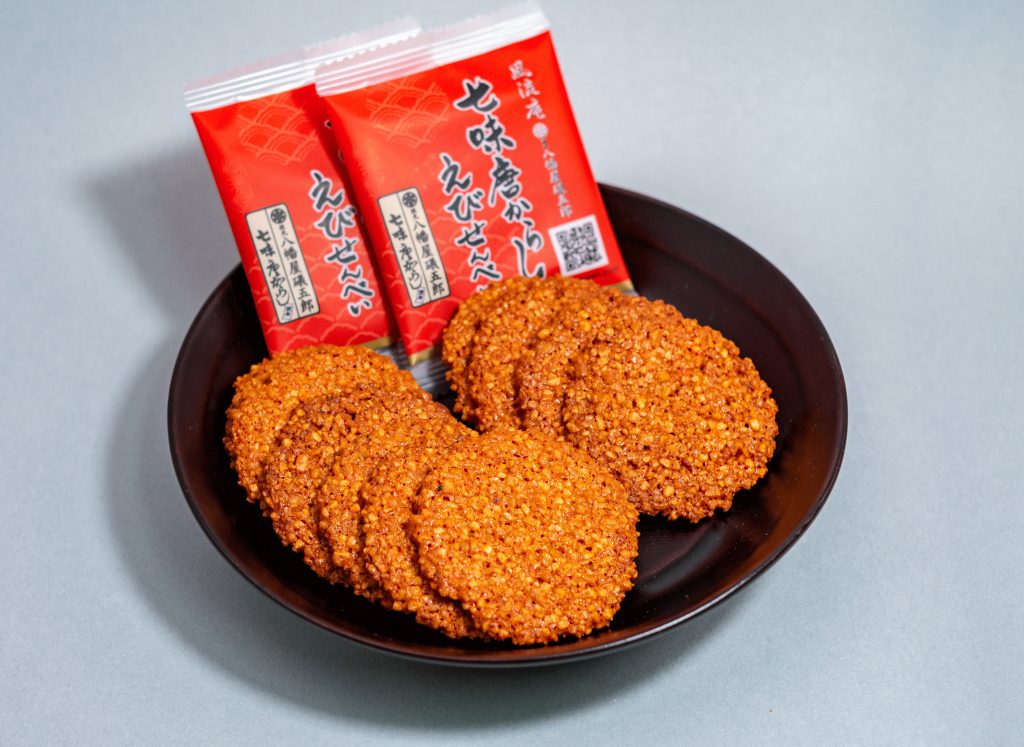 ■商品介绍:  由来自日本三大著名七味粉品牌之一的【根元 八幡屋礒五郎】 的【七味粉】仙贝面团,烤至酥脆制成。 品尝时,仙贝层次丰富的大虾风味与辣味在口中萦绕。 根本 八幡屋礒五郎】 的【七味粉】含有七种香料:辣味辣椒, 兼具辛辣和香味的花椒,生姜,独具风味与香气的麻籽,芝麻,陈皮,紫苏。七味粉以独特的香味与辣味的调和闻名。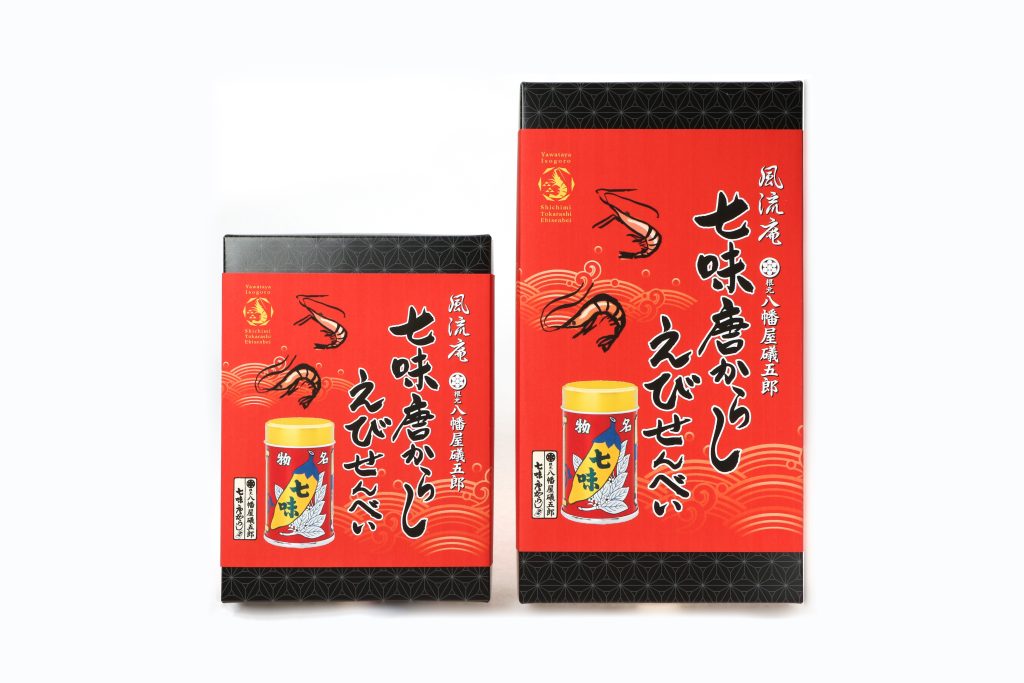 ■配料:  还原糖浆(日本制造)、淀粉加工食品(淀粉、小麦粉、其他)、加工米制品、酥油、腰果、液体蛋白(含鸡蛋)、糖、小麦粉、虾干、盐、七香芥末(含芝麻)/调味料(氨基酸等:来自大豆)、色素(胡萝卜素、姜黄)、 膨胀剂,多糖增稠剂。
■内容量: 16个/ 27个
■保存方法:  避免阳光直射,高温,潮湿环境。
■过敏成分:  配料中含有小麦、鸡蛋、虾、大豆、芝麻和腰果。生产该产品的工厂有含荞麦, 乳制品,螃蟹的生产线。

■注意:
开封后请尽快食用。
本产品十分易碎,请轻拿轻放。
本产品由日本产大米制成。
※This photo is for illustrative purposes.