■Product name: Owakudani Onsen Egg Buns
■Product Introduction: [Owakudani Onsen Egg Buns] is a black cocoa crust dessert stuffed with custard sauce and white bean paste, which is based on the famous black hot spring egg "black eggs (kuro tamago)" in Owakudani.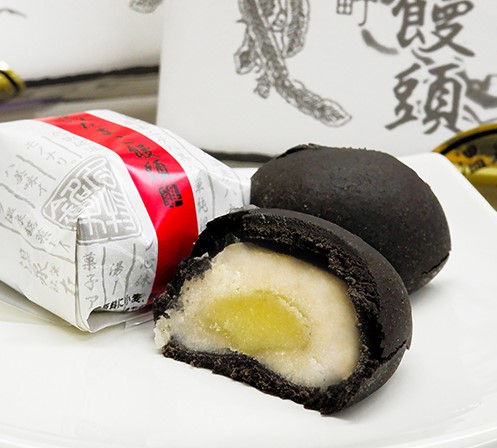 〔What is white bean paste〕
White bean paste is the filling of dessert, which is made from mushy White Hyacinth Bean with sugar and starch syrup. It is mainly used for buns and the filling of baked goods. The sweet taste of white bean paste is more elegant and lighter than "black bean paste" which is made from red beans.
■Raw Material Label: White bean paste, sugar, wheat flour, custard cream (vegetable oil and fat, reduced starch syrup, sugar, sweetened milk, starch, egg yolk, milk protein), starch syrup, liquid egg, margarine (edible refined processed oil, edible vegetable oil, salt), maltose, cocoa powder, gelatin / leavening agent, coloring (caramel, gardenia, carotene), calcium carbonate, emulsifier, polysaccharide thickener, flavoring, antioxidant (vitamin E), Seasonings (inorganic salt), (some contain wheat, eggs, dairy ingredients, gelatin, soybeans)
■Contents: 9pieces / 16pieces
■Storage: Storage Avoid direct sunlight and high temperature keep in cool dry place.
■Allergy: Some of the raw materials include eggs, dairy ingredients, wheat, soybeans, and gelatin. This manufacturing plant manufactures products containing buckwheat.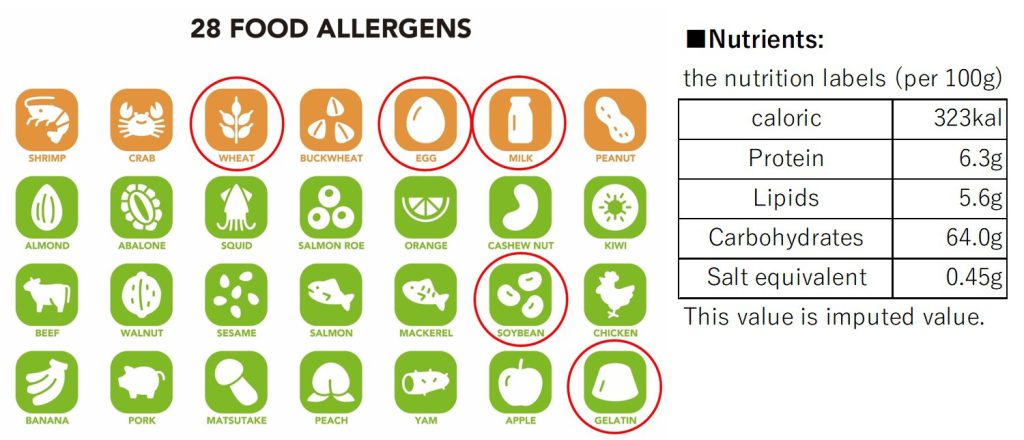 〔下面是中文〕
■商品名: 大涌谷温泉蛋馒头
■商品介绍: [大涌谷温泉蛋馒头]是以大涌谷有名的黑壳温泉蛋"黑蛋"为构想,用放入可可粉的黑色外皮包裹卡仕达酱,白馅烤制的甜点。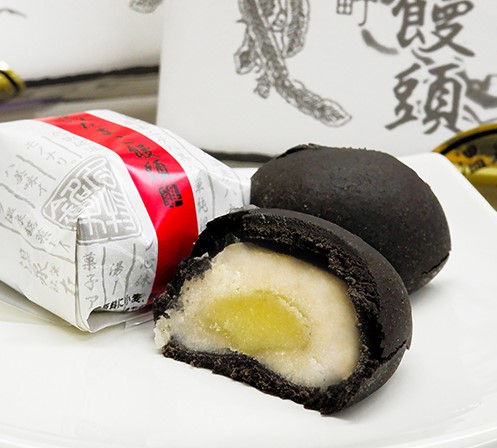 〔白馅〕
白馅是将糊状的白芸豆与砂糖和麦芽糖稀一起搅拌而成的点心材料,主要作为甜馒头(豆包)和烤点心的内馅使用,相对于红豆为材料的"黑馅"甜味更加清新高雅。
■主要原配料: 白馅,砂糖,小麦粉,卡仕达酱(植物油,还原麦芽糖稀,砂糖,加糖炼乳,淀粉,蛋黄,乳蛋白)麦芽糖稀,蛋液,人造黄油(食用精制加工油脂,食用植物油脂,食盐),麦芽糖,可可粉,明胶/膨胀剂,色素(焦糖,栀子色素,胡萝卜素)碳酸钙,乳化剂,多糖增稠剂,香料,抗氧化剂(维生素E),调味料(无机盐),(部分含有小麦、鸡蛋、乳成分、明胶、大豆)
■内容量: 9个 / 16个
■保存方法: 避免阳光直射,避免高温潮湿环境,于阴凉处保存。
■过敏成分: 原材料中部分含有鸡蛋、乳成分、小麦、大豆、明胶。本制造厂生产含荞麦面的产品。