■Product name: 'MARUGOTO' Apple Baumkuchen 
■Product Introduction:  The ['MARUGOTO' Apple Baumkuchen] is a round baked Baumkuchen made from Apples in syrup from Nagano, a famous apple producing area, wrapped in dough mixed black tea powder from Shizuoka, a famous tea-producing area, at the foot of Mt. Fuji.
The soft aroma of black tea and the crisp, tart taste of apples make it a popular product in "shunsui" souvenir stores.
■Raw Material Label:  Apples in syrup, chicken eggs, sugar, wheat flour, shortening, margarine, foods made mainly from milk, processed oil and fat foods, black tea leaves / Ca lactate, leavening agent, acidifier, emulsifier, antioxidant (V.C.), (contains wheat, eggs, milk ingredients, soybeans, apples)
■Contents: 1 piece
■Storage:   Avoid direct sunlight and high temperature keep in cool dry place.
■Allergy:  Wheat, Egg, Milk, Soybeans, Apple are included as part of the ingredients. The factory where this product is manufactured also produces products containing Peanuts.

■Notice:
Please eat as soon as possible after opening.
The black grains in the Baumkuchen are black tea leaves. Please eat with peace of mind. In rare cases, a thin, hard "carpel" may remain in the center of the apple, please remove it.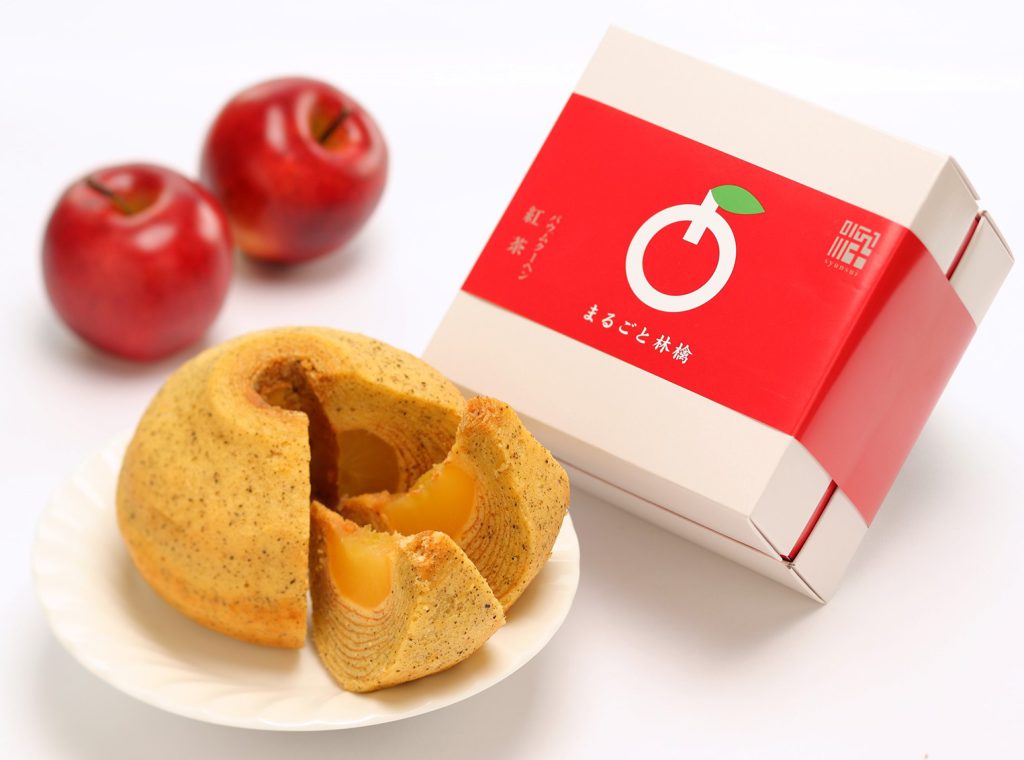 ■商品名:  整个苹果红茶年轮蛋糕
■商品介绍:  【整个苹果红茶年轮蛋糕】是以日本著名的长苹果种植区长野的苹果为原料,把整个苹果用糖浆腌制,用来自富士山脚下著名茶叶产地静冈的红茶粉混合的面团包裹,烘烤出的圆形年轮蛋糕。
红茶的温和香味和苹果的清脆口感及酸味,使其成为了"旬粹"纪念品商店的热门产品。
■配料:  糖渍苹果、鸡蛋、糖、小麦粉、起酥油、人造黄油、牛奶制成的食品、加工的油和脂肪、红茶叶/乳酸钙、膨化剂、酸味剂、乳化剂、抗氧化剂(V.C),(含有小麦、鸡蛋、牛奶成分、大豆、苹果)
■内容量: 1个
■保存方法: 避免阳光直射,高温,潮湿环境。
■过敏成分: 配料中含有小麦,鸡蛋,乳制品,大豆,苹果。生产该产品的工厂有含花生的生产线。

※This photo is for illustrative purposes.