■Product name:  GUNMA KONNYAKU CREAM DAIFUKU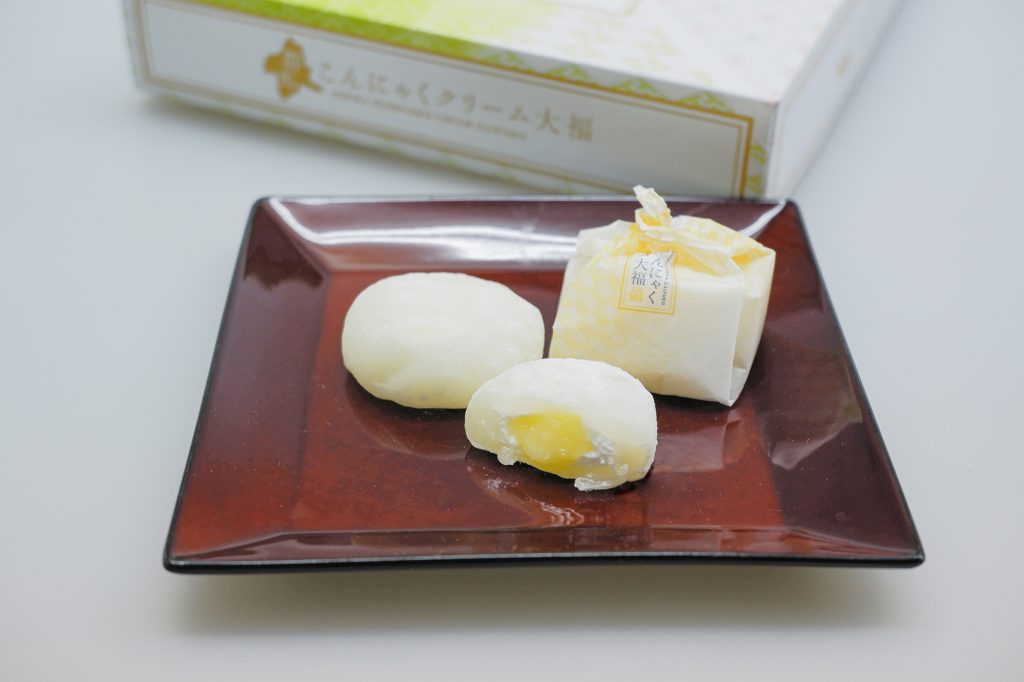 ■Product Introduction:  The "Gunma Konnyaku Cream Daifuku" is a cream Daifuku rice cake made of mochi dough with konnyaku flour, a raw material produced in Gunma Prefecture, to give it a unique sticky texture. The one-bite size cream Daifuku contains custard cream with just the right amount of sweetness. Enjoy this rice cake snack with a sticky texture made from konnyaku, a rare ingredient in confectionery.
〔About Konnyaku〕
Gunma Prefecture is the largest producer of konnyaku potatoes in Japan. It is the No. 1 producer of konnyaku in Japan, with a 90% share of the Japanese domestic harvest (according to crop statistics for the year 2020). Konnyaku" made from "konnyaku flour" is often used in Japanese home cooking such as oden and simmered dishes. Konnyaku is also known as an excellent low-calorie health food because it is chewy and makes you feel full even with a small amount, and because it contains soluble dietary fiber.
■Raw Material Label:  Starch syrup (made in Japan), sugar, rice cake flour, custard cream, gelatin, dried egg whites, konjac flour/processed starch, sorbitol, calcium carbonate, enzymes, polysaccharide thickener, emulsifier, flavor, antioxidant (V.E.), color (gardenia)
■Contents:  12pieces/20 pieces
■Storage:  Store away from direct sunlight, high temperature and high humidity.
■Allergy:  Egg, Milk, Gelatin,Soybeans are included as part of the ingredients. The factory where this product is manufactured also produces products containing Wheat, Buckwheat, Peanuts.

■Notice:
Once opened, please eat as soon as possible.
〔下面是中文〕
■商品名:  群马蒟蒻奶油大福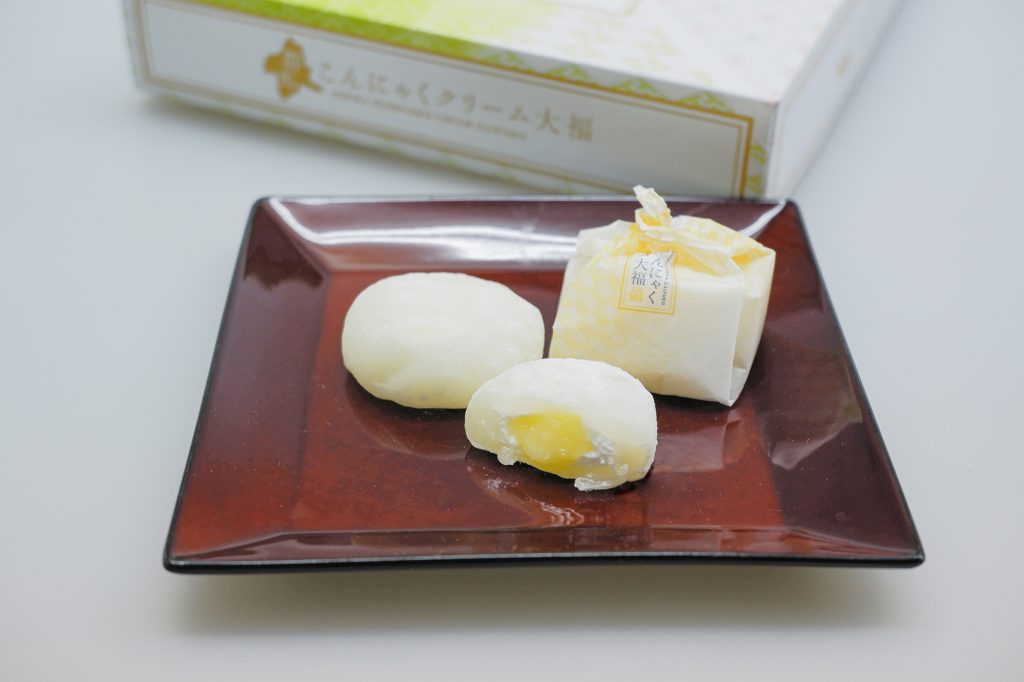 ■商品介绍:  群马蒟蒻奶油大福是一种奶油大福,由糯米面团加上群马县生产的蒟蒻面粉制成,使其具有独特的Q弹口感。一口大小的奶油大福年糕内填有甜度适中的卡仕达奶油。 请享用由蒟蒻制成的具有特殊口感的大福。
〔关于蒟蒻〕
群马县是日本蒟蒻的主要生产地。 它是日本第一大蒟蒻生产商,占国内收获量的90%(根据2020年的作物统计)。 由 "蒟蒻粉"制成的 "蒟蒻"经常被用于日本家庭烹饪,如关东煮和煨菜。 蒟蒻是极好的低热量健康食品,因为它弹牙的口感, 少量食用也有饱腹感,它成分中还含有可溶性膳食纤维。
■配料:  淀粉糖浆(日本制造),糖,年糕粉,吉士粉,明胶,干蛋白,魔芋粉/加工淀粉,山梨醇,碳酸钙,酶,多糖增稠剂,乳化剂,调味剂,抗氧化剂(V.E),色素(栀子花)。
■内容量: 12个 /20个
■保存方法:  避免阳光直射,高温,潮湿环境。 
■过敏成分:  配料中含有鸡蛋,乳制品,明胶,大豆 。生产该产品的工厂有含小麦,荞麦, 花生的生产线。

■注意: 开封后请尽快食用。