■Product name:  Dadachamame Caramel Cookies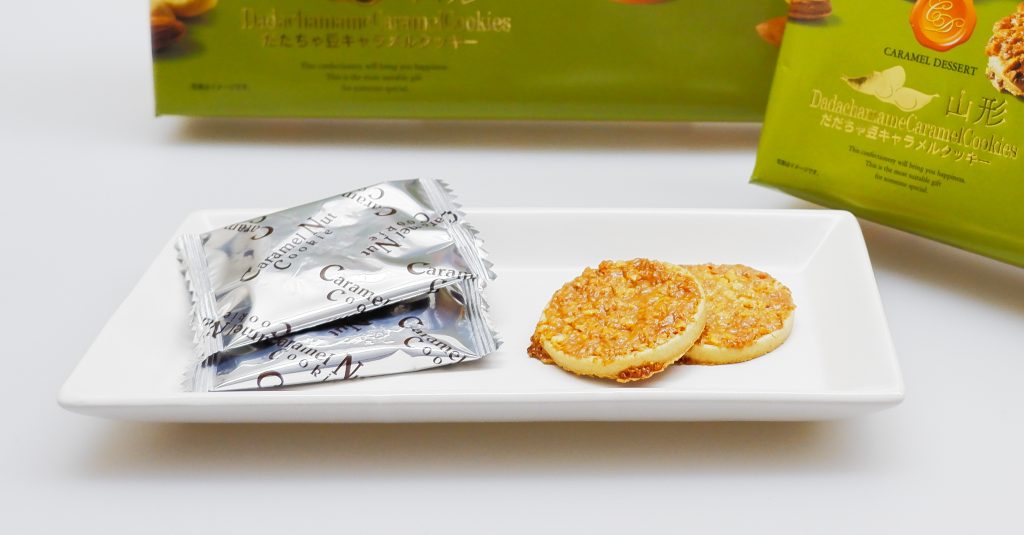 ■Product Introduction:  Yamagata dadacha beans are dipped in caramel with almonds and peanuts to make cookies.
You will enjoy the sweetness of the caramel, the nutty texture, and the flavor of the dadacha beans.
About Dadacha Beans
〔About Dadacha Beans〕
Dadacha beans are specialty edamame grown only in Tsuruoka City, Yamagata Prefecture. They are also called "the king of edamame" because their flavor increases the more you chew them, and their delicious flavor and sweetness spreads.
■Raw Material Label:  Flour (made in Japan), processed candy (almonds, sugar, syrup, shortening, other), sugar, peanuts, margarine, eggs, edamame (dada-cha-mame from Yamagata Prefecture) (not genetically modified), shortening, salt / inflating agent, flavor, color (safflower yellow, gardenia), emulsifier
■Contents:  12 pieces/24 pieces
■Storage:  Store away from direct sunlight, high temperature and high humidity.
■Allergy:  Wheat, Peanuts, Milk, Soybeans are included as part of the ingredients.
The factory where this product is manufactured also produces products containing Buckwheat.

■Notice: Once opened, please eat as soon as possible. 
〔下面是中文〕
■商品名: 枝豆焦糖饼干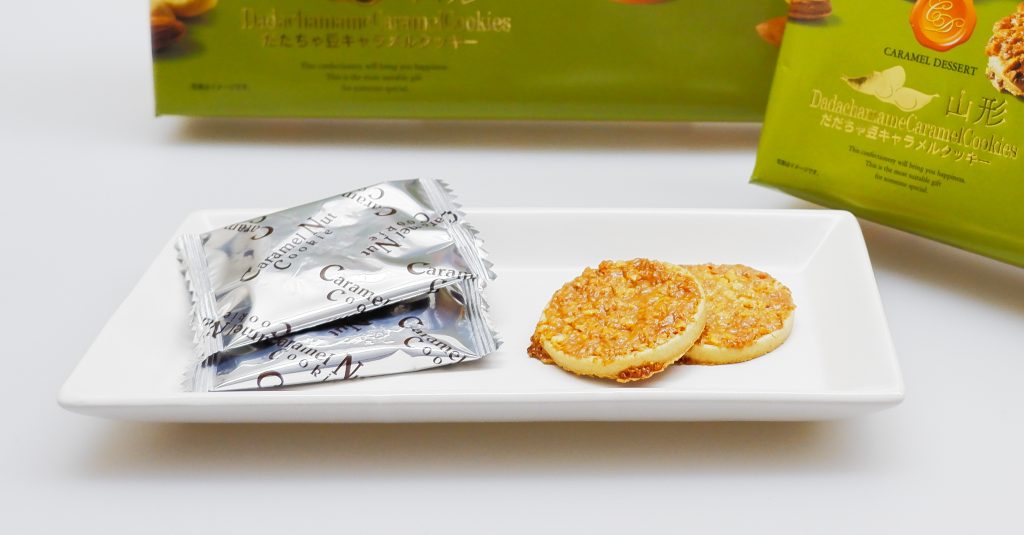 ■商品介绍:  山形枝豆与杏仁和花生包裹着焦糖中,烤制出的饼干。
请享受焦糖的甜味、坚果的口感和浓郁的枝豆风味。
〔枝豆〕
这些枝豆是、 是山形县鹤冈市的特产。它们也因其越嚼越香,越嚼越甜的特点,被称为 "毛豆之王"。
■配料:  面粉(日本制造)、加工糖果(杏仁、糖、糖浆、起酥油、其他)、糖、花生、人造黄油、鸡蛋、毛豆(山形县的达达豆)(非转基因)、起酥油、盐/充气剂、调味料、色素(红花黄色、栀子花)、乳化剂
■内容量:  12个/24个
■保存方法:  避免阳光直射,高温,潮湿环境。
■过敏成分:  配料中含有小麦, 牛奶,花生, 大豆 。生产该产品的工厂有含荞麦的生产线。

■注意: 开封后请尽快食用。