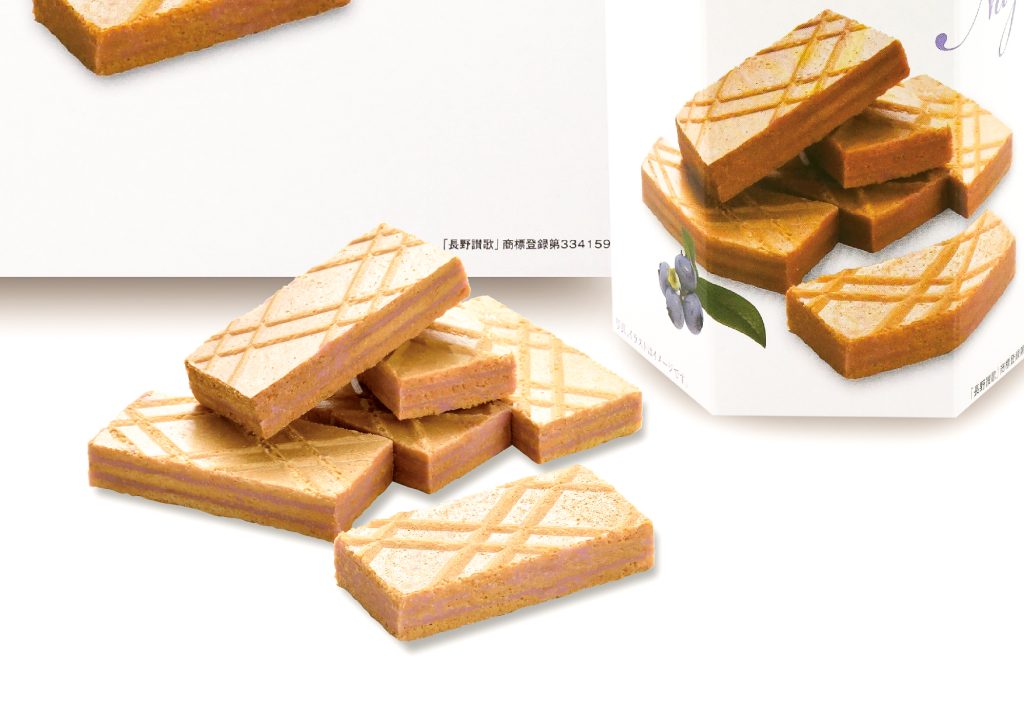 ■Product Introduction:  These bite-sized cookies are made with blueberry juice from Shinshu, the largest producer of blueberries in Japan, and sandwiched between two layers of blueberry chocolate.
Surrounded by mountains at high elevations, Nagano Prefecture has a wide range of temperatures, making it easy for the berries to become sweeter and the blueberries to be exposed to more sun.
The crispy cookies and the sweet, refreshing taste of blueberries spread out.
■Raw Material Label: Coating chocolate (vegetable oil and fat, sugar, lactose, skimmed milk powder, cocoa butter, blueberry powder) (containing soybeans) (manufactured in Japan), wheat flour, sugar, chicken eggs, starch, blueberry juice (blueberries (from Shinshu)), vegetable oil and fat, powdered fat/emulsifier, leavening agent, color (beet, carotene), Acidifier, Flavoring, Sorbitol, Sodium caseinate, Antioxidant (tocopherol)
■Contents:  15pieces / 27pieces
■Storage:   Store away from direct sunlight, high temperature and high humidity.
■Allergy:  Wheat, Egg, Milk, Soybeans are included as part of the ingredients.
The factory where this product is manufactured also produces products containing peanuts.

Shopping store
■Northern Nagano Area
Bearny, Royal Hotel NAGANO
■Karuizawa, Saku, Ueda Area
Karuizawa do, Michi no Eki Saku Minami, Oedo Onsen Monogatari Kakeyu
■Matsumoto, Azumino Area
Shinano-no-kaze Matsumoto Store, Matsumoto Souvenir Shop, Shinshu Alps Market
■Northern Alps Area
Escal Plaza, Kurobe Kanko Hotel, Tateyama Prince Hotel, Yottetei Matsukawa
■Lake Shirakaba, Yatsugatake, Kurumayama Area
Kurumayama Sky Plaza, Kurumayama Sky Park Hotel, Plaza 21, Himekidaira Nature House in Nagawa Town, Kita-Yatsugatake Ropeway
■Southern Nagano Area
Hotel Beniya, Michi no Eki Okuwa, Michi no Eki Soba no Shiro, Biande Sakura-tei
■Expressway
Tobu-Yunomaru SA, Sakudaira PA, Azusagawa SA, Tatsuno PA, Suwako SA, Komagatake SA, Kamisato SA, Yoneyama SA
■Others
Heart Memory Karuizawa Prince Store (Karuizawa Prince Shopping Plaza)
〔下面是中文〕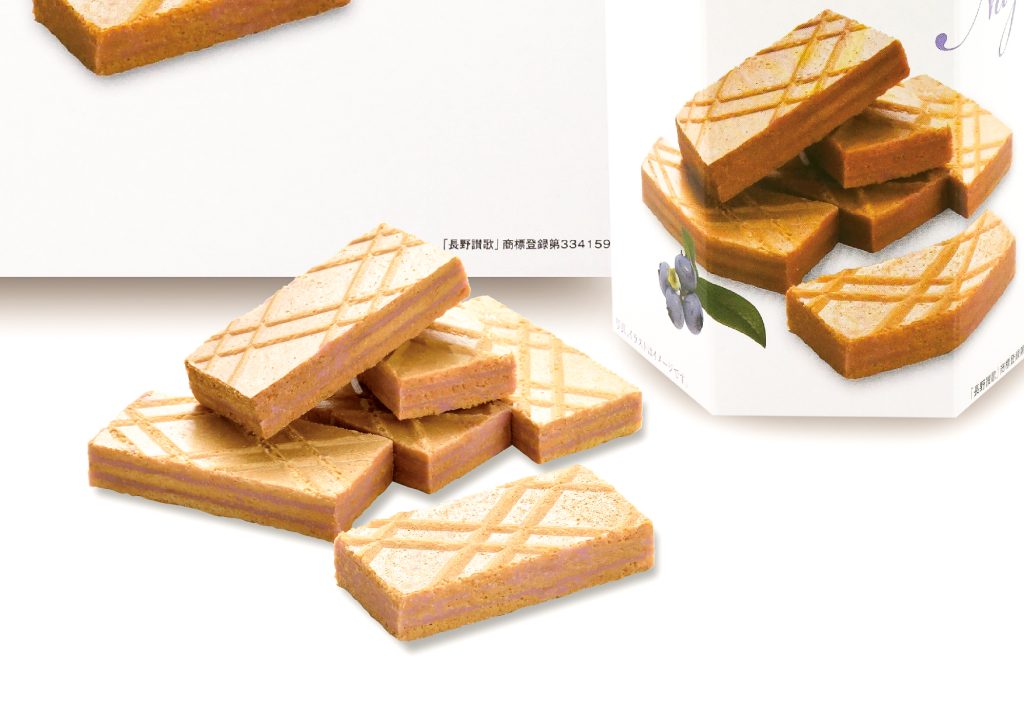 ■商品名:  长野赞歌蓝莓巧克力曲奇
■商品介绍:  用日本最大的蓝莓生产地信州的蓝莓汁制成的两层蓝莓巧克力夹在薄薄的饼干中间,制成了一口大小的曲奇。
长野县四面环山,海拔较高,温差较大,蓝莓在充分的阳光照射下提升了甜度。
请享受饼干酥脆的口感和蓝莓的清甜。
■配料:  巧克力涂层(植物油脂、糖、乳糖、脱脂奶粉、可可脂、蓝莓粉)(含大豆)(日本制造)、小麦粉、糖、鸡蛋、淀粉、蓝莓汁(蓝莓(产自信州))、植物油脂、油脂粉/乳化剂、发酵剂、色素(甜菜根、胡萝卜素)、酸味剂、香精、山梨醇、酪蛋白钠、抗氧化剂(生育酚)
■内容量: 15个 、27个
■保存方法:  避免阳光直射,高温,潮湿环境。
■过敏成分:  配料中含有小麦,鸡蛋,牛奶, 大豆 。
生产该产品的工厂有含花生的生产线。

※This photo is for illustrative purposes.