■Product name:  Beauty Fuji Printed Cookies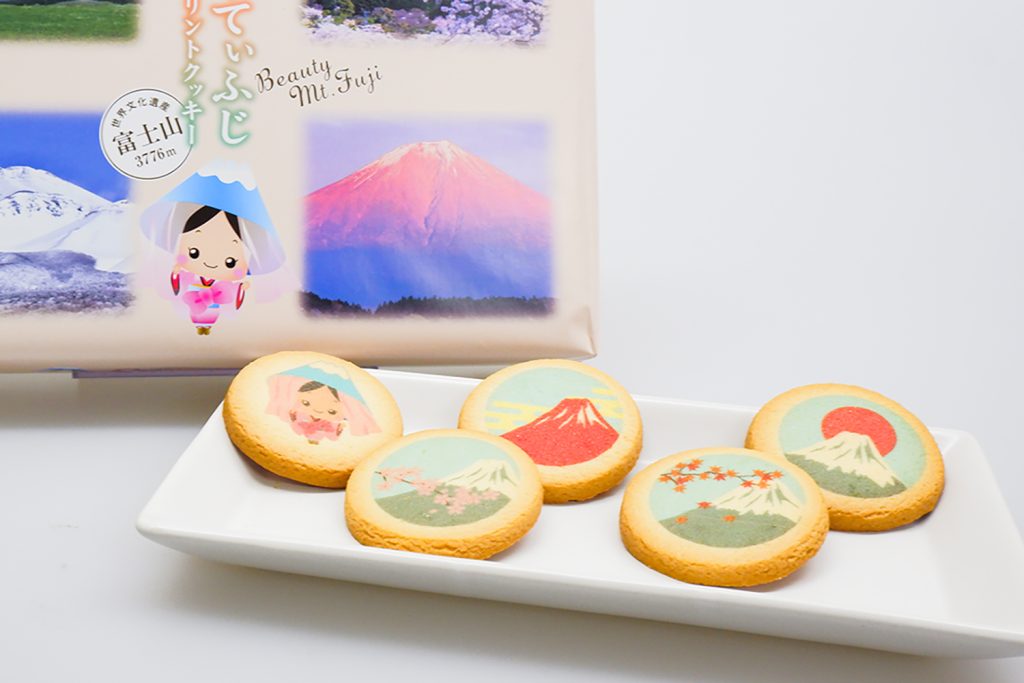 ■Product Introduction:  The cookies are buttery and crispy with the addition of almond powder.These cookies are printed with a design of Mount Fuji and other characters.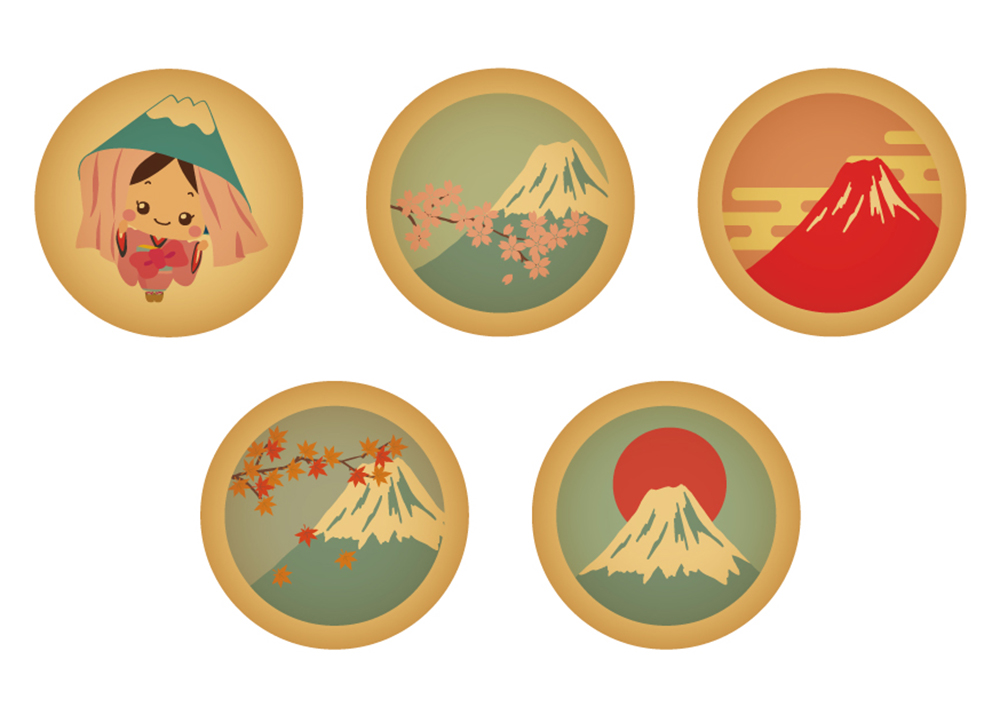 〔About the design〕
Mount Fuji changes its appearance with the seasons: spring "lingering snow and cherry blossoms," summer "Akafuji (Mount Fuji looking red in the morning sun)," autumn "autumn leaves and Mount Fuji," winter "Mount Fuji in the sun and snow," as well as original character designs of Mount Fuji, making a total of five types.
■Raw Material Label:  Flour (manufactured in Japan), sugar, margarine, chicken eggs, almond pudding, whole milk powder, salt / inflating agent, emulsifier, flavor, color (yellow 4, red 102, blue 1, red 106), (contains wheat, eggs, milk ingredients, soybeans, almonds)
■Contents:  14pieces
■Storage:   Store away from direct sunlight, high temperature and high humidity.
■Allergy:  Wheat, Egg, Milk, Soybeans, Almond are included as part of the ingredients.
The factory where this product is manufactured also produces products containing peanuts.

■Notice: Please consume as soon as possible after opening.
〔下面是中文〕
■商品名:  美丽富士印花饼干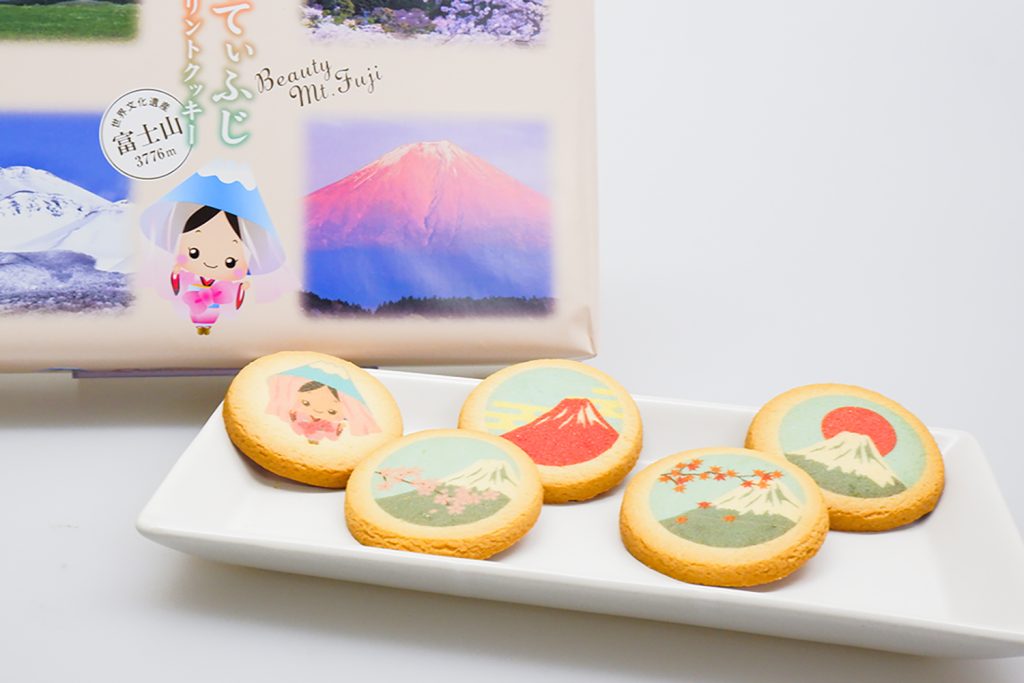 ■商品介绍:  添加了杏仁粉的黄油风味饼干酥脆可口。饼干上印有富士山和卡通形象的图案。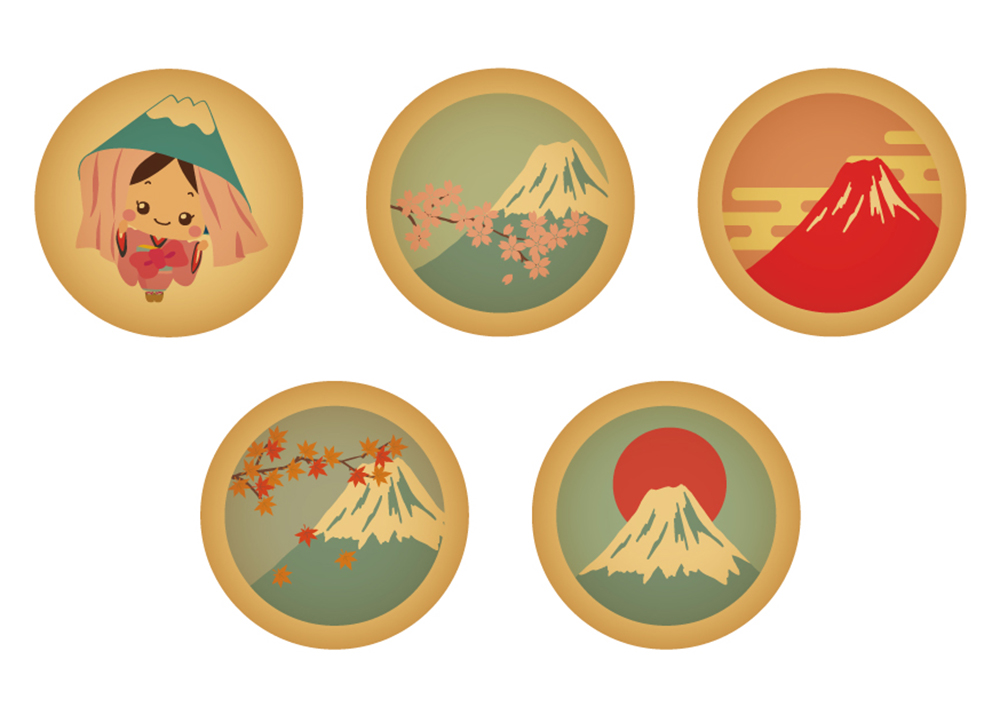 〔关于印花设计〕
富士山会随着季节的变化而变化,春天有 "樱花和绵延的积雪"、夏天有 "赤富士(富士山在晨曦中呈现红色)"、秋天有 "红叶与富士山"、冬天有 "阳光和雪中的富士山",还有富士山的原创图案,总共有五种类型。
■配料:  面粉(日本制造)、糖、人造奶油、鸡蛋、杏仁布丁、全脂奶粉、盐/膨松剂、乳化剂、调味剂、色素(黄 4、红 102、蓝 1、红 106),(含部分小麦、鸡蛋、牛奶成分、大豆和杏仁)
■内容量: 14个
■保存方法:  避免阳光直射,高温,潮湿环境。
■过敏成分:  配料中含有小麦,鸡蛋, 牛奶,大豆,杏仁 。
生产该产品的工厂有含花生的生产线。

■注意: 开封后请尽快食用